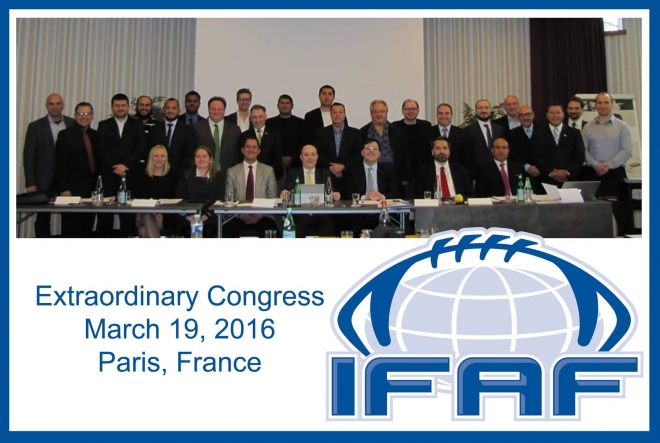 IFAF Extraordinary Congress in Paris, France on March 19th 2016
IFAF Extraordinary Congress in France



The International Federation of American Football held an Extraordinary Congress on Saturday, March 19, 2016. The meeting was held in Paris, France, the home country of IFAF.



The meeting hosted representatives from 20 countries from IFAF America, IFAF Asia, and IFAF Europe. Attending countries includes: Belgium, Bulgaria, Costa Rica, France, Germany, Greece, Guatemala, Honduras, India, Ireland, Kuwait, Netherlands, Nicaragua, Russia, Spain, Turkey and and El Salvador.



The meeting was held to ratify formal decisions which legally could not be, finalized during the last IFAF Congress on July 17, 2015 in Ohio, USA. These matters needed immediate attention, largely due to IFAF's consistent and ongoing review by the International Olympic Committee (IOC). The IOC maintains frequent and constant connection with potential Olympic sports and the current status in regards to Olympic recognition.



The IFAF Extraordinary Congress accepted new National Member Federations during the meeting. The new members, in large, come from regions of the world where American Football is deemed as not a fully developed sport…yet. A complete list of the new members and their storied beginnings will soon be available on the website. The expansion of the additional members is expected to aid in the review process of IFAF by the IOC.



The IFAF Extraordinary Congress appointed IFAF Vice-President Robert Huber (Germany) to the position of IFAF Senior Vice-President, Sahin Komurcu (Turkey) was elected as Vice-President, Michel Daum (France) and Namdev S. Shirgaonker (India) as members of the Executive Board of IFAF.



The IFAF Extraordinary Congress also conducted a secret ballot vote where members unanimously confirmed their trust in the Presidium and Executive Board in a Vote of Trust.